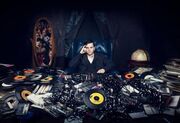 DJ/Producer, Aaron Jacksonhas developed a unique blend of house, UK garage and wompy club beats to create a signature sound that is guaranteed to get the floor "bumpin'". He is quickly rising to the top of his game and separating himself from the herd. Aaron began his journey in the world of vinyl and soon after started producing his own tracks. The community of house music lovers has received his efforts with open arms and open ears. His music has been signed to record labels such as Party Like Us Records, Hed Kandi Records and Monstercat. Support From: SCNDL, Hannah Wants, Kastle, Chuckie, Treyy G, Ac Slater, Shiba San, Tom Shorterz, Reid Speed, Roska, Kissy Sell Out, Splitbreed, Billy Kenny, Marcus Nasty, Tigerlight, Rootkit , Your Edm, EdmSauce, Edm.com
Ad blocker interference detected!
Wikia is a free-to-use site that makes money from advertising. We have a modified experience for viewers using ad blockers

Wikia is not accessible if you've made further modifications. Remove the custom ad blocker rule(s) and the page will load as expected.