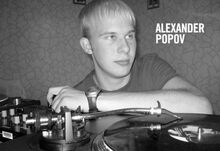 website: www.myspace.com/popovmusic www.alexanderpopov.ru profile: Alexander was born in 1986 in Saratov, Russia. He was fond of music since his childhood. He graduated music school with honors. At the age of 15, he began to take interest in electronic music. Since 2004 he began to perform in clubs of the city and at this time he begins to organize parties. In 2005 he became a co-author and a presenter of the radio show on one of FM-waves. Since 2007 Alexander begins to pay much attention to his own creation. At the beginning of 2007 Alexanders track Vapour Trails attracts many DJ's. He got lots of offers from European labels and finally the choice was made - English label Solarstone – Insatiable Records releases the track. The track was played (mixed) by famous DJ's of the planet: Armin Van Buuren, Tiesto and so on. And also it was included in the compilation ATB The DJ 4 in The Mix. And a bit later - in Dreamdance. After that, there came out some other tracks: Everest, Rising Star, Atlantida, which were released on all known European labels: Monster Tunes, Five AM and others and got support from top DJ's of the world. \Today Alexander Popov is one of the most quickly developing Russian musicians. In a year of his creative work, he made more than 10 releases. His tracks often get in charts of most known Russian and foreign DJs. and were performed at world-known shows: A State Of Trance, Anjunabeats Worldwide, Tiesto - Club Life, Deep Blue Radio Show. Now Alexander continues to perform as a DJ and he is an art-director of the club.
Ad blocker interference detected!
Wikia is a free-to-use site that makes money from advertising. We have a modified experience for viewers using ad blockers

Wikia is not accessible if you've made further modifications. Remove the custom ad blocker rule(s) and the page will load as expected.