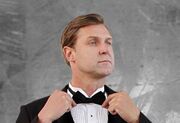 It was the year '99 when his first release 'Dooms Night' said hello to world and with a re-releasing one year later it went straight into the UK Top10 with over 200.000 sold copies. Since then German based electro don Azzido Da Bass has had several releases on Luscious Sounds and cooperations with Zoot Woman singer Johnny Blake or Jence from Digitalism. As a remixer in demand Azzido has left his mark with remix productions for well known bands and acts such as Weezer, Muscles, Mando Diao , B.P.A. aka Norman Cook, Kid Alex aka Boys Noize, Spillsbury among others and has had a bizzy dj schedule which brought him to nightlife spots around the globe playing back to back with the worlds leading djs. A quick side step with his single 'I Want You' feat. Jence on New York based underground label Coco Machete were followed by joint venture releases on OMGITM with production partner Dirty Disco Youth and Malente on DIM MAK Rec. With his latest and bass-heavy offering called 'Rawk' which was played all over the world by artists like Chuckie, Paul Van Dyk, Bob Sinclar, Fedde Le Grand, Deniz Koyu, Bob Sinclar, Kryder, Marcel Woods, Point Blank, Antoine Clamaran, David Puentez, Dabruck & Klein, dbn, Matty Menck, The Disco Boys, Nari & Milani, Joachim Garraud, Patric La Funk and many other global players, Azzido is making now another huge return on the young EDM label Pyro Records. Bundle contains remixes by Brooks (NL) and Party Killers with french young gun BEENIE BECKER, who already has been supported by Dmitri KO, Sidney Samson, Disfunktion and many more.
Ad blocker interference detected!
Wikia is a free-to-use site that makes money from advertising. We have a modified experience for viewers using ad blockers

Wikia is not accessible if you've made further modifications. Remove the custom ad blocker rule(s) and the page will load as expected.