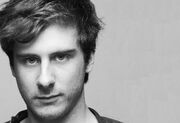 Alessandro Gemelli, aka "Blasterz", is an upcoming EDM Dj and and Producer from Italy.With more than 10 years of classical piano over his shoulders enriched by his studies at SAE institute, Alessandro is currently one of the rising star in the scene. His styles is influenced by progressive house, trance and big room, and results into a mix of groove, beat and melody. As Blasterz,Alessandro shared stages with some of the biggest acts in Electronic Dance Music from Hardwell, Axwell to Nicky Romero, Afrojack and many more, his dj set are a powerful and energetic experience, if there is someone to keep an eye on, Blasterz is your guy.
Section heading
Write the first section of your page here.
Section heading
Write the second section of your page here.
Ad blocker interference detected!
Wikia is a free-to-use site that makes money from advertising. We have a modified experience for viewers using ad blockers

Wikia is not accessible if you've made further modifications. Remove the custom ad blocker rule(s) and the page will load as expected.