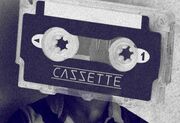 Cazzette (stylized CAZZETTE) is a Swedish DJ duo consisting of Sebastian Furrer and Alexander Björklund. Founded on 4 June 2011, Cazzette quickly became a part of the Swedish EDM explosion of 2012. They combined two of the most popular strains of dance music, house and dubstep, for a sound they called "dubhouse". In 2012, they released their track "Beam me Up", which remains their most popular song to this day. It is featured in there debut album, Eject pt. 1
Ad blocker interference detected!
Wikia is a free-to-use site that makes money from advertising. We have a modified experience for viewers using ad blockers

Wikia is not accessible if you've made further modifications. Remove the custom ad blocker rule(s) and the page will load as expected.