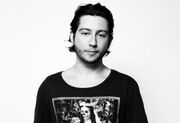 For Chris Ramos it's all about the melody. As a classically trained pianist turned producer, Chris has an ear for detail and a drive that keeps him locked in the studio. It is because of this mentality that he is beginning to make a name for him self in Canada and around the world.Chris was destined to be an artist from a young age. He began piano lessons at the age of 6, and at the age of 12 was introduced to the world of music production with the Yamaha Motif 8. By the age of 16 he stepped foot into his first recording studio, finished his song titled "I'm so Lost" and signed it to Miami based label Batuque Music.After studying production at Harris Institute in Toronto, Chris released a single titled "Celebration" on SPG/Big Music which started opening doors. This got him playing some of Toronto's hottest clubs including Koolhaus/Guvernment, Cobra, Rockwood, and Time opening for some of the world's biggest DJ's like Edward Maya. "Celebration" was added to regular rotation on Z103.5 and was placed on one of Canada's biggest compilations "Z103.5's Summer Rush 2010" alongside other artists such as Tiesto and Kaskade.Chris has been busy playing clubs opening for DJ's like Porter Robinson and Madeon while remaining active in the studio working on remixes for Lights, The Midway State and Foster The People. Chris recently collaborated with TheBeatmonkey on a track titled "Baby" which will be released on 6N7 March 2012.
Section heading
Write the first section of your page here.
Section heading
Write the second section of your page here.
Ad blocker interference detected!
Wikia is a free-to-use site that makes money from advertising. We have a modified experience for viewers using ad blockers

Wikia is not accessible if you've made further modifications. Remove the custom ad blocker rule(s) and the page will load as expected.