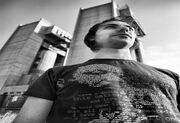 Deejay & producer born in Barcelona (Spain) with more than a decade of experience, supported by big international stars like Pete Tong, Laidback Luke, Antoine Clamaran, Benny Benassi, Sandy Rivera, Dirty South or Tiesto, amog others.In 2012 some hot official remixes are coming out for Joachim Garraud, David Vendetta, D.O.N.S. or the legendary pop diva's Sabrina & Samantha Fox.He broke hard in the music scene with " Destination " ,with the remix he did for David Tort & Dj Ruff meet Dj disciple, creators of the hit " Work it out " ,having a big impact around the world. This succes brought him to work with international discographic companies like Catch 22 (NY), Hussle Recordings ( EMI ), Harlequin Recording Group (Miami), MixMash ( Netherlands ), Kingdom Kome Cuts ( Germany )...and also with the main spanish companies such as Blanco y Negro, Vale Music or Factomania, run by Wally Lopez.We can listen usually Christian Vila's name in prestigious radio shows from Roger Sanchez, Pete Tong or Tiesto. For instance, the track made with his fellows Cosme Martin and Lee Stark, " Breakdown ", received a big support from Roger Sanchez in his radio show Release Yourself, being one of the most important tracks of the 2010 for the S-Man.DJ Mag (UK), Big City Beats Vol. 13, Ministry of Sound Radio......are some of the compilations where you can find productions from Christian Vila, in between them we can highlight his remix for Alex Armes , "No Reasons" , edited by Laidback Luke, becoming one of his most played around the clubs.Actually ,teaming up with Cosme Martin, Christian Vila is an essential piece of one of the radio shows that approach the club culture to the crowd: Sound Masters Radio Show. Every week is broadcasted in more than 30 countries around the world ,through more than 60 FM stations, the programme became one of the referring of the international clubbing scene.
Section heading
Write the first section of your page here.
Section heading
Write the second section of your page here.
Ad blocker interference detected!
Wikia is a free-to-use site that makes money from advertising. We have a modified experience for viewers using ad blockers

Wikia is not accessible if you've made further modifications. Remove the custom ad blocker rule(s) and the page will load as expected.