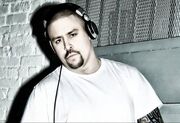 For the past 15 years, the CEO and founder of FunkyElement Records, U.S.A. has been hard at work. Withcountless top 10 charting productions in Electro House he isalso a #1 overall best selling producer in Dubstep and Drumn bass. A DJ/ Producer/ Re-mixer/ & Label Owner, Dank hasbeen at the forefront of the heavy bass culture movementsince its early inception years ago. T his New York Citynative considered to be a pioneer of the underground soundcurrently coming out of the city that never sleeps,represents heavy bass culture from the school of the hardknox and is knee deep in it. It has been said he eats, sleeps,and breathes heavy bass culture. In addition, he is nostranger to demolishing dance floors throughout the UnitedStates and abroad. Fused with sexy bass and super funk,Dank has played along side some of the hottest talent onthe planet. He has remixed for various labels around theworld such as Armada Music, Big Fish, Play Me, CentralStation and the list goes on. His own live performances havebeen considered thunderously captivating, crossing allgenres of the heavy bass movement. Dank calls his homeUltra Music, as he is a signed exclusive recording artist withthem. With his signature style of bass in your face "Don'tTalk About It... Be About It" Dank vows to continue on hispath of moving dance floors till the early morning.www.djdank.com www.facebook.com/dankofficialwww.soundcloud.com/dj-dank-musicwww.twitter.com/dankofficialmusicwww.youtube.com/djdanklive
Ad blocker interference detected!
Wikia is a free-to-use site that makes money from advertising. We have a modified experience for viewers using ad blockers

Wikia is not accessible if you've made further modifications. Remove the custom ad blocker rule(s) and the page will load as expected.