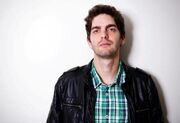 Darth & Vader is one of the main Electro House projects from Brazil. With influences of Complextro, Dirty Dlectro, Dubstep, Rock and Progressive, it was created as a duo in 2009, being ruled just by Hugo since the beginning of 2012. Born in 1988 in Rio de Janeiro and having musical experiences since the age of nine, when began playing the guitar, Hugo Castellan has always been a rock'n'roll lover and had many bands of the style through his adolescence. 2007 was the year when he first heard and also fell in love with electronic music, which made him study musical production and create his fullon project called Harmonika. Two years later and wishing to produce and explore new sounds, came the idea of releasing Darth & Vader, with heavier and more complex basslines. The project's second relase, Dataloss's "Freefire" remix, reached the third position on Beatport Top 10 Electro House contest, having competed against big names like Afrojack and Deadmau5, and was crucial for the recognition of Darth & Vader. Its other highlights are the remix for the DJ Maxsie & Alex Speaker's "Hey Yo" track, used in Armin Van Buuren's and Skrillex's presentations, and the "Return Of The Jedi" original mix, also played by Moby. With huge recognition from north to south of Brazil, Darth & Vader has already played in the biggest clubs and festivals of its home country. The project has also been in the Unites Stated and Mexico, where was greatly received, and has tours schedulled again in the United States, Australia and New Zeland for the year of 2012. Hugo Castellan is a professional totally focused on aprimorating his productions, aiming his music's evolution and perfection. The result of the mixture between all that discipline and talent are imposing tracks and presentations, that make themselves unforgettable wherever the project goes and definitely worth being heard and seen.
Section heading
Write the first section of your page here.
Section heading
Write the second section of your page here.
Ad blocker interference detected!
Wikia is a free-to-use site that makes money from advertising. We have a modified experience for viewers using ad blockers

Wikia is not accessible if you've made further modifications. Remove the custom ad blocker rule(s) and the page will load as expected.