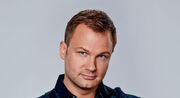 Dash Berlin
is a
Dutch
trance music project created in 2007 by Jeffrey Sutorius, Eelke Kalberg, and Sebastiaan Molijn. The front man of the group is the DJ Jeffrey Sutorius a.k.a Dash Berlin, the 10th most popular DJ in the world according to DJ Mag in 2013.
Ad blocker interference detected!
Wikia is a free-to-use site that makes money from advertising. We have a modified experience for viewers using ad blockers

Wikia is not accessible if you've made further modifications. Remove the custom ad blocker rule(s) and the page will load as expected.