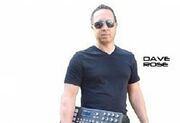 Since 2004 Dave Rose has been producing house music. As a long time musician and songwriter Dave was always intriged by the the feeling he would get at the clubs and seeing the crowds reaction to house beats,drops and builds.Thats when Dave decided to give the house genre a go and thusfar it has paid off.Dave has worked with a variety of pioneers in the house genre such as Johnny Vicious,Junior Vasquez and Dj Mike Cruz and has also had collaborations with some of todays rising stars such as Sonny Wharton ,Benny Royal ,Mike Ivy, Dj Deka,and Will Clarke and is currently collaborating with many more shining stars in house music.Dave's original tracks, remixes and bootlegs have been supported by many global deejays such as Roger Sanchez, Matt Darey, Fedde Le Grand,Funkagenda and Stonebridge to name a few and has releases on labels like TIGER,STEREO,SPINNIN,Cr2,FLAMINGO,SNEAKERZ MUZIK,SKINT,NERVOUS,WHARTONE and many more. 2013 got off to a great start with #1 Beatport Top 100 House track remix called September then followed up those with 2 more TOP 100 showings all before February.Keep on the lookout for Dave RoseHe'll be makin some noise soon at a party near you.
Section heading
Write the first section of your page here.
Section heading
Write the second section of your page here.
Ad blocker interference detected!
Wikia is a free-to-use site that makes money from advertising. We have a modified experience for viewers using ad blockers

Wikia is not accessible if you've made further modifications. Remove the custom ad blocker rule(s) and the page will load as expected.