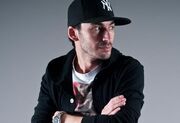 Born in the 80's, David Hopperman is a french DJ / Producer who started his career from a very early age in Europe, but everything sped-up when he started his residency at Les Caves du Roy in St Tropez in 2010. After producing more than fifty tracks on labels like Cr2 Records, Spinnin, Juicy Music or Armada, David had the opportunity to sign on Afrojack's label "Wall Recordings" with "Make Up Your Mind" & "Kind of Trashy ". Signatures that made him the only french artist to sign on this international label.With heavy supports from the electronic scene on his tracks, David released "Like I Like" produced with Amanda Wilson, internationally known for her collaboration with Avicii on "Seek Bromance" or with Chuckie on "Breaking Up". 2013 began with the release of an official remix for Joachim Garraud "Maximus" released on February 18.David had the chance to play for the first time at Ultra Music Festival in Miami, one of the most important festivals held in USA.And that's now before the summer that a new step has been reached because David just released a new track "Drop The Bass" on Starter Records.The track reached #30 position in the Top 100 Beatport Electro / House and is now played for several weeks by David Guetta during his concerts, but also in his radioshows.
Section heading
Write the first section of your page here.
Section heading
Write the second section of your page here.
Ad blocker interference detected!
Wikia is a free-to-use site that makes money from advertising. We have a modified experience for viewers using ad blockers

Wikia is not accessible if you've made further modifications. Remove the custom ad blocker rule(s) and the page will load as expected.