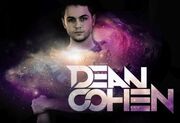 It all began at Dean Cohen's Uncle's house.After routinely digging through crates full of vinyl, a lifelong love of dance music was born. By the age of 14, he mastered the piano, but because of its creative limitations, Cohen taught himself how to use Cubase and Reason. He wasted no time gaining success and fame in his native Israel, scoring a Top-20 hit ("Psychopati") at 15 years old.By age 17, he had conquered both Israel's club scene and radio waves. His following Top-20 hit, "American Flash" would be his international breakout, peaking at #13 on Beatport's global 'Progressive House' chart, and getting support from international touring artists Madeon, 3LAU, and many more.Beatport is not the only one noticing Cohen's work. Everyone from Tiesto, Nicky Romero, the legendary Bob Sinclair, Fedde Le Grand, Starkillers, and Hardwell are spinning his tracks.With dozens of new releases on the horizon, Dean Cohen is focused beyond the next track. He's taking his brand of electro-powered, progressive house anthems to the masses, with appearances already confirmed at Chicago's Spring Awakening Music Festival. This is the next step in Dean Cohen's career, as an international superstar.
Section heading
Write the first section of your page here.
Section heading
Write the second section of your page here.
Ad blocker interference detected!
Wikia is a free-to-use site that makes money from advertising. We have a modified experience for viewers using ad blockers

Wikia is not accessible if you've made further modifications. Remove the custom ad blocker rule(s) and the page will load as expected.