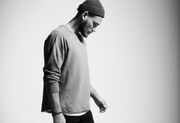 Croatian-born and Danish-bred Denis Horvat. The young producer grew up in the suburbs listening to his father's old vinyls, everything from Billy Idol to Depeche Mode. He discovered electronic music from his love of drumming and loads of hours watching MTV. A love of bands like T he Prodigy, quickly led to him tinkering early on with a DOS- based sequencer. These were his first steps in the world of music production. At the same time DJ'ing was an interesting topic. His first DJ gig was at the local club – a test pilot for his new productions.Today Denis is based in Copenhagen and a frequent player in some of the finest underground clubs in the city. Still focusing on his productions and gaining attention through a prestigious resume of labels.
Section heading
Write the first section of your page here.
Section heading
Write the second section of your page here.
Ad blocker interference detected!
Wikia is a free-to-use site that makes money from advertising. We have a modified experience for viewers using ad blockers

Wikia is not accessible if you've made further modifications. Remove the custom ad blocker rule(s) and the page will load as expected.