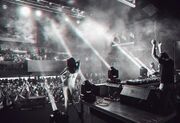 Coming up with support from the elite of EDM scene, in likes of David Guetta, Tiesto,Arty, Thomas Gold, Benny Benassi, Sander Van Doorn, Tristan Garner, Paul Oakenfold, Gareth Emery and many others, Duher is bringing shockwaves to the world of EDM."I'm really proud to have sign this kid first! He is really talented and trust me you are going to hear a lot about him this year!" said Tristan Garner about Duher, as he won the contest of talents, which Tristan Garner launched himself on his own record label "XTraLife".At that point Duher started to shock the EDM world with his massive sound. The legend of the dance music scene - David Guetta supports each new track of Duher in his radio show "F*** Me I'm Famous", as well as MixMag recognized Duher's remix on "Raindrops" from Fytch, Captain Crunch & Carmen Forbes, as the most potential tune of the season 2012. By making the official remix on the star of the modern EDM scene – Afrojack, Duher snapped the legendary label "Strictly Rhythm", and had climbed into the top 20 tracks of the progressive house chart at Beatport. In 2013 Duher keeps pushing hard and releases his collaboration tune with M-3ox called "Girls", featuring AJB brilliant vocals. The whole release including remixes from DJ M.E.G. & N.E.R.A.K. and Daleri was supported by David Guetta and many other big names of EDM. With the latest tune called "Rokit" Duhergets out on Cr2 records and once again gains a huge support from the "elite league" of the EDM industry.
Section heading
Write the first section of your page here.
Section heading
Write the second section of your page here.
Ad blocker interference detected!
Wikia is a free-to-use site that makes money from advertising. We have a modified experience for viewers using ad blockers

Wikia is not accessible if you've made further modifications. Remove the custom ad blocker rule(s) and the page will load as expected.