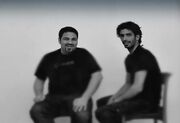 The reputation of these two talented producers from Israel has been growing in the last few years mainly thanks to their unique Techno / Progressive House sound. After they had collected a couple of top quality tracks, Flippers started releasing them on respected and worldwide well-known labels:Virtual Love, Maquina Music, Diffused, Big & Dirty, In charge (Be yourself music), iboga records, Tribal Vision, Spherax, Fatali Music Soon after that the promoters around the world got familiar with Flippers music, the duo started to perform live at big parties and festivals all over Israel, Mexico, Brazil & Europe. Flippers music is being regularly played by the leading international artists, DJs & radios. In the last years Flippers worked together with artists like: Ticon, Andrea Bertolini, Lish, Weekend Heroes, Dj Slater, True Lies, Miki Litvak, Andrea Roma, Three Sixty, Spartaque, Magitman, Max Freegrant, Andre Bastos and many more.Supported artist: David Guetta, Fedde le Grand, Nickey Romero, Ferry Coersten, David Tort, Umek, Ticon, Johnson & Haske, Spartaque, Richie Hawtin, Manuel De La Mare, Markus Schulz. Symphonix and D-Unity.
Section heading
Write the first section of your page here.
Section heading
Write the second section of your page here.
Ad blocker interference detected!
Wikia is a free-to-use site that makes money from advertising. We have a modified experience for viewers using ad blockers

Wikia is not accessible if you've made further modifications. Remove the custom ad blocker rule(s) and the page will load as expected.