GALANTIS is Christian "Bloodshy" Karlsson of Miike Snow, and Linus Eklow aka Style of Eye. The accomplished duo's groundbreaking work as GALANTIS destroys current electronic dance music tropes, demonstrating that emotion and muscianship can coexist with a mammoth sound.The duo has been taking over dance floors and airwaves individually for years. Karlsson has been behind classics like Britney Spears' "Toxic", for which he won a Best Dance Recording GRAMMY, and is also a member of Miike Snow. Eklow co-wrote and produced Icona Pop's International No.1 smash "I love It" ft. Charli XCX. After admiring each other from afar, the pair set up shop on an island in the Baltic Sea and GLANT IS was born. Get ready!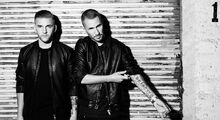 Ad blocker interference detected!
Wikia is a free-to-use site that makes money from advertising. We have a modified experience for viewers using ad blockers

Wikia is not accessible if you've made further modifications. Remove the custom ad blocker rule(s) and the page will load as expected.