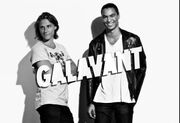 Galavant consists of Sebastian Atas and Victor Sjöström and their story begins as late as 2012 when Victor through friends heard some of Sebastian's work online. Victor contacted Sebastian and soon after they decided to go all-in together and put all their effort into making music. That would soon prove to have been a wise decision.After entering the scene in 2013 things have moved fast for Galavant in their native Sweden! With their platinum- awarded debut single "Tonight" they have got well over 5 million streams on Spotify in Sweden alone and with 22 consecutive weeks in the Swedish Top 100 chart the success is undeniable!A part from making a platinum record in 2013 Galavant made appearances on some of the biggest and most prestigious gigs in Scandinavia including their set at the Summerburst Festival in front of 45.000 people (their debut "Tonight" was also the theme song for the festival!) as well as before Axwell at his own concept together with Carlsberg "Where ́s The Party"!Fast forward to march 2014 and Galavant are now signed to labels like Ultra Music, Universal and Ministry Of Sound in different parts of the world and ready to follow up on their success with "Tonight" with their brand new single "World Of Dreams" and a stunning remix on Ash Pournouri`s (Avicii ́s manager) newly created label PRMD.Galavant have achieved great things in a short amount of time but rest assured, this is only the beginning and with Ultra Music as their new partner Galavant are aiming for the world!
Section heading
Write the first section of your page here.
Section heading
Write the second section of your page here.
Ad blocker interference detected!
Wikia is a free-to-use site that makes money from advertising. We have a modified experience for viewers using ad blockers

Wikia is not accessible if you've made further modifications. Remove the custom ad blocker rule(s) and the page will load as expected.