Gladiator is a DJ/Production duo from Los Angeles comprised of Danl and Ian. They show their flex and diverse backgrounds by melding their collected musical taste and experience into a sound unique to gLAdiator. Their love of the Lakers and all things Mila Kunis fuels their productive fire with the aim of making a name for themselves in the ever-evolving dance music landscape.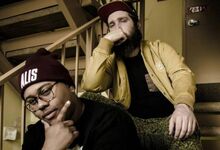 Ad blocker interference detected!
Wikia is a free-to-use site that makes money from advertising. We have a modified experience for viewers using ad blockers

Wikia is not accessible if you've made further modifications. Remove the custom ad blocker rule(s) and the page will load as expected.