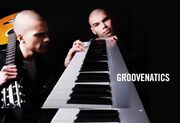 Fascination for house music begun at a young age when Timo Romme discovered his producing-talent. Timo involved his enthusiastic cousin Yordi Corsten in this scene and they started Groovenatics. Together they're always searching for new sounds which make their name worthy. Their music varies from underground clubhouse to vocal deep house, but their main purpose is to create real dance music. These young fellows (21 and 22) from the Netherlands have performed at festivals like Dancevalley and Creamfields. You can also find them at leading Dutch parties, such as Sneakerz, Addicted and Housequake, a concept with Roog 'Hardsoul' and Erick E (Sensation) as the main acts. In 2007 they produced "Lose Control", which was signed at the Dutch record label Sneakerz MUZIK. At the same time Groovenatics signed with the international booking agency 1Management, where artists like Fedde le Grand, Funkerman, and Baggi Begovic already signed. Since then, they did remixes for names like Todd Terry, Ron Carroll, Baggi Begovic, Belocca & Soneec and Harrison Crump to name a few. These remixes were released on major labels such as Stealth Records, Leaders Of The New School (Toolroom), 1Trax (MN2S), Ultra, Vendetta Records, Rise and Spinnin Records. Groovenatics are always working on new projects and they get lots of support of high level DJ's such as David Guetta, Roger Sanchez, Laidback Luke, Erick E, Aaron Ross, and many other artists. Besides that, they made several new productions in 2008. "Bust A Move" was a well played record by many DJ's. The appealing summer track "Joy" featuring Mitch Crown was released on Sneakerz Muzik and Tiger Records (Kontor). Both tracks appeared on several CD compilations. In 2008 they also started a collaboration with Baggi Begovic. The first track to be released was called "Message", and was released on the legendary label Nervous Records. The collaboration with Baggi became a fact and they decided to do a lot more projects in the future. So with that said, you absolutely should check out these guys in the club. Their differences in technologic is extraordinary and they always know how to arouse the crowd.
Section heading
Write the first section of your page here.
Section heading
Write the second section of your page here.
Ad blocker interference detected!
Wikia is a free-to-use site that makes money from advertising. We have a modified experience for viewers using ad blockers

Wikia is not accessible if you've made further modifications. Remove the custom ad blocker rule(s) and the page will load as expected.