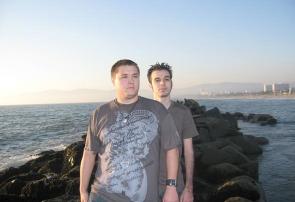 Grube & Hovsepian, a dynamic duo in the dance music scene are also known as Tim Grube and Mike Hovsepian. They currently reside in Miami, Florida and Los Angeles, California. Virginia Beach native, Tim Grube started out bringing the noise locally in clubs opening for well known DJs, solo gigs, as well as producing his own pieces during his spare time in Washington D.C. In early 2008, Grube heard the Coldharbour driven basslines from Mike Hovsepian where he was debuted on Markus Schulz's Global DJ Broadcast. Grube had an amazing idea to get in touch with Hovsepian and discuss a new partnership. That started Grube & Hovsepian in which they are combining and sharing their fresh sound to the scene through progressive, trance, and electro sounds. Along with productions, Grube & Hovsepian showcase their radio show, 'Grube & Hovsepian Radio', which is broadcasted every Friday at 11 AM EST on DI.FM's Progressive channel. This carefully selected set is heard by thousands of listeners. The response has been unbelievably successful and has even been downloaded over a million times via official website and iTunes. Dance music embraced the new year and Grube & Hovsepian are determined to make their sound heard in all parts of the globe through radio, club appearances, and production pieces. These young musicians use hard work accompanied by desire and have set the pace for the young producers of this generation in music. They have the drive, stamina, and creative mindset that knows no limits. In 2008, Grube & Hovsepian released their first single with San Francisco based vocalist, Catherine. 'We All Need' skyrocketed into the Top 100 Beatport chart within two days at #47. This was a mind-blowing experience for them. Soon after, the coast to coast duo released 'Morning Sunrise' which showcased their hard edged percussion and intricate melodic structure. Later that year, Markus Schulz sought Grube & Hovsepian out and asked them to remix his single, 'Do You Dream' from his latest artist album. This received major support across the board by Top 10 DJs. 2010 has continued to be another year of success for the duo. Releasing their third single on Club Elite Recordings (Armada Music), 'Conviction', has proven to continue that Grube & Hovsepian are here to stay. Many A-List DJs including Armin Van Buuren, Above & Beyond, Markus Schulz, Paul Van Dyk, Ferry Corsten, Gareth Emery, and Sander Van Doorn to name a few; have supported Grube & Hovsepian. They are definitely a group to look out for in the years to come.
Ad blocker interference detected!
Wikia is a free-to-use site that makes money from advertising. We have a modified experience for viewers using ad blockers

Wikia is not accessible if you've made further modifications. Remove the custom ad blocker rule(s) and the page will load as expected.