Started as a leftfield music project in the early 90s, Reykjavik-based GusGus have emerged to be at the forefront of the international electronic dance community. Today, the Icelandic group has nine full-length LPs under its belt, first debuting on legendary indie label 4AD before developing in a more dance-orientated outfit, switching labels a few times before finally signing to Kompakt with 2009's "24/7". Following 2011 best seller "Arabian Horse", Birgir Thorarinsson, Daníel Ágúst, Högni Egilsson and Stephan Stephensen release their third full-length album "Mexico" via Kompakt in 2014, where they leave no stone unturned on their journey to sonic bliss, delving ever deeper into timeless melodies with every subsequent track and stepping further into the future of anthemic pop music.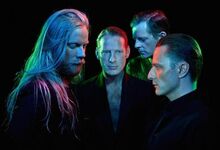 Ad blocker interference detected!
Wikia is a free-to-use site that makes money from advertising. We have a modified experience for viewers using ad blockers

Wikia is not accessible if you've made further modifications. Remove the custom ad blocker rule(s) and the page will load as expected.