"I've never seen anything like it in my whole life" ...are the usual words one will hear from people who have actually experienced Gustavo Bravetti 's live p e rf o rmanc e .Gustavo Bravetti, is a Uruguayan musician, producer and live performer. His work on alternative controllers, as well as his deep interaction with music and crowds, has led him to perform live in the biggest electronic music festivals around the world, such as "Love Parade", "Kazantip", "Nature One", among others.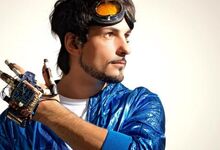 Ad blocker interference detected!
Wikia is a free-to-use site that makes money from advertising. We have a modified experience for viewers using ad blockers

Wikia is not accessible if you've made further modifications. Remove the custom ad blocker rule(s) and the page will load as expected.