This young talent is recognized for his diverse dance productions ranging from electro, trance, dubstep and everything in between. Jontron has made a lasting impression on the dance community with high profile remixes for some of the biggest names in the game, including his chart topping remix of Kaskade & Tiesto's "Only You" and BT's "Emergency". Jontron's work has been featured by some of the scene's biggest labels including Ultra, Nervous, Blackhole, PBR Records and countless others. If his production didn't speak enough for itself, Jontron is also resident of Beta Nightclub (voted #1 nightclub in North America - DJ MAG 2010). Currently on a global take over mission with his studio & DJ partner Dragon, Jontron continues to please electronic dance music enthusiasts with his eclectic mix of hands up, high energy productions, and his inspiring DJ sets. Watch out. www.jontron.net www.dragonandjontron.com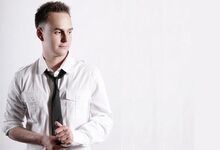 Ad blocker interference detected!
Wikia is a free-to-use site that makes money from advertising. We have a modified experience for viewers using ad blockers

Wikia is not accessible if you've made further modifications. Remove the custom ad blocker rule(s) and the page will load as expected.