Jorn van Deynhoven (short.: JvD) was born on March 10, 1977, half Dutch half German and is a trance producer and DJ living in Bloemendaal, The Netherlands. When Jorn van Deynhoven won ATB's remix contest for Desperate Religion knew that this would change his musical career. Famous artists such as Andain, Dash Berlin, Jan Johnston, Roger Shah, Hemstock & Jennings as well as Blank & Jones had their productions graded up by Jorn van Deynhoven. Armin van Buuren honoured JvD's creative work in 2008 by stating: "Who says Trance is dead when records like this are still being made". In the following months Jorn van Deynhoven produced almost monthly one remix smash-hit after another. Roger Shah's 'Body Lotion' or Andain's 'Beautiful Things' are just two highlights among a series of successful remixes. In 2009 Jorn van Deynhoven met the Dutch artist RAM. Both noticed that they had the same idea and philosophy of music and so they decided to produce a single together. RAMsterdam was the first result. When the single was licensed to Armada Music the course was set for the candidate of "Tune of the year 2009". With success. RAMsterdam entered Pos. 08 at the A State of Trance 'Tune of the Year'-Show. For more than 12 weeks RAMsterdam has been on top of all important worldwide sales shops and so part of many popular DJ playlists. World's No1. DJ Armin van Buuren even nominated Jorn's composition Ramsterdam as biggest tune and mentioned him also as 'New Talent of Trance' on his 'Universal Religion Chapter 4' CD-Booklet. Already in the same year Jorn van Deynhoven decided to spend more time on his DJ career starting his own radio show "Spotlight" on Afterhours.fm as well as diverse guest mixes on shows like: • Tiesto's ClubLife #096 • Vonyc Sessions / Vonyc Radio • Solaris International (formally Deep Blue Radio) • Dave Pearce Radio • Captured Radio • Sunshine-Live Germany • Kiss.FM Ukraine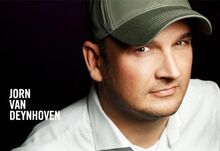 Ad blocker interference detected!
Wikia is a free-to-use site that makes money from advertising. We have a modified experience for viewers using ad blockers

Wikia is not accessible if you've made further modifications. Remove the custom ad blocker rule(s) and the page will load as expected.