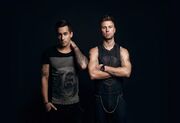 JuicyTrax -the union of two of electronic music producers from St. - Petersburg (Russia), began working together in 2008, during the time of the recorded about forty tracks, 5 of them became radio hits, including a joint track with the German singer Paula P Cay, the author voices super hit "No sress!"05/08/2013 the release of the track JuicyTrax - Glamedm on German label We Play, owners Stefan Dabruck & Frank KleinOn which issue their tracks such grants as: Dabruck & Klein, Axwell, Steve Angello, Sebastian Ingrosso, Dirty South, DBN, Jean Elan, Laidabck Luke, Tristian Garner & Gregory Klosman, Albin Myers, Bob Sinclair, Tim Berg, Grum, Boy Georgperformed on the same stage with artists such as : Ferry Corsten / Calvin Harris / Mat Zo / Swanky Tunes / Hard Rock Sofa / Mattise & Sadko /Spartaque / Spektre and more ...JuicyTrax - feels the audience and gives her the necessary positive emotions that you will understand at promotional videos in the links below YouTubeJuicyTrax popular and in demand in Russia and CIS countries, spoke at the best clubs and festivals in Russia, Ukraine, Belarus, Egypt, Turkey, etc.
Section heading
Write the first section of your page here.
Section heading
Write the second section of your page here.
Ad blocker interference detected!
Wikia is a free-to-use site that makes money from advertising. We have a modified experience for viewers using ad blockers

Wikia is not accessible if you've made further modifications. Remove the custom ad blocker rule(s) and the page will load as expected.