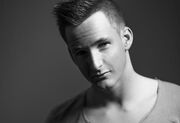 Justin Strikes (Joost Rikkerink) was attracted to music at an early age.Starting out by composing theatrical soundtracks, he later switched to melodic house music.His sound is best described as progressive house with a touch of tech & trance. "You shouldn't just listen to the music, you should feel it".Justin kickstarted his career by releasing 'Euphoria' on Laidback Luke's Mixmash Records, which is soon to be followed by his single EP: 'Outburst'.Justin's singles 'Let yourself go' and 'Rewind & Change' were both released with PM Recordings, and several of his future releases will also appear with the independent record label.
Section heading
Write the first section of your page here.
Section heading
Write the second section of your page here.
Ad blocker interference detected!
Wikia is a free-to-use site that makes money from advertising. We have a modified experience for viewers using ad blockers

Wikia is not accessible if you've made further modifications. Remove the custom ad blocker rule(s) and the page will load as expected.