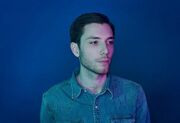 Former drummer and percussionist Florent Cortesi alias Lazy Flow originally from Paris, builds bridges between world, house, hip-hop, bass and live music.Since 2009 his productions has been released on labels like Big N' Hairy, Mental Groove, Fogbank, Southern Fried, Bad Life, San City High, Youngunz,... He collaborated with Malente, Sovnger, Girl Is Tough & Khadyak, made remixes for Todd Terry & J Paul Getto, Sebastien Tellier, Funkystepz, The Very Best, Human Life,Acid Washed or Onyenze. From 2010 till today, he stays also very active as party organizer in Paris (Point Ephémère, Concorde Atlantique, Petit Bain, Social Club, La Villette Enchantée, Le Dandy, Favela Chic, Chez Moune,...).2012 he hosted a radio show on Nasty FM (UK) with guest mixes from Rogerseventytwo, Tagteam Terror, Joao Brasil, Lars Moston and more. Mid 2014 he teamed up with Maral Salmassi to relaunch Television Rocks records which gives him the opportunity to fully express himself as an A&R.As a DJ he has played all over France and beyond: Paris (Nouveau Casino, Showcase, La Machine du Moulin Rouge, Batofar, ,..), 4 Sans (Bordeaux), La Plateforme (Lyon), Le Rafiot (Strasbourg), Le Chat Noir (Dijon), Bagneux (France Ô Folies), Nancy, Grenoble, Lille, Nantes, Annecy, Avoriaz, Isola 2000,... Razzmatazz (Spain), Belgium (Fuse, Mirano), United Kingdom (The Den, 53 Degrees, The Legion, Orange Rooms), Germany (Nektar Beach, Tempelhof), Fri-Son (Switzerland), Czech Republic, Luxembourg,..His talent led him to work with brands like Diesel (Bread & Butter), Burn (French Tour), Puma (UK), Grolsch (Block Party), Orange (Radio Nova), WeSC (Citadium), Wad Magazine (Wad Klub), John Ribbe (fashion week),...On his past gigs he played alongside Armand Van Helden, Keith Murray, Major Lazer, Die Antwoord, Boys Noize, Nero, Oneman, Kissy Sell Out, Zombie Disco Squad, Housemeister, Congorock, Renaissance Man, Daniel Haaksman, L-Vis 1990, Stefano Ritteri, Joakim, Para One, Surkin, Martelo, D.S.L., Sinden, Homework, Douster, Myd, French Fries, Teki Latex, DJ Orgasmic, Radioclit, The Phantom's Revenge,...In March 2014 he released his first LP "MOYO MOYO" on the Austrian label Big 'N' Hairy specialized on world club sounds. He composed, recorded and mixed 10 tracks showcasting his own vision of world music, the marriage of electronic and acoustic sounds. This project is going from Cumbia to Afrobeat via Pop and Baile Funk with influences ranging from Bmore Club to Tropical, Hip-Hop, World, Rock and a bit of Bass Music. MOYO MOYO is the result of all the wonderful encounters with artists and singers all over the world during the past three years like Anbuley, Isa GT, Gazelle, Saadi, Tigarah, Mo Laudi, Matthew Wasley, Macky Ruff, JourneytotheEnd and Jean-Jacques Berthieu.Lazy Flow's debut album MOYO MOYO is the first step of an on going series of collaborations and live performances. His stage performances together with his new band are a sure bet for a good club night! Watch out and don't miss a chance to see Lazy Flow live in a city near by!
Section heading
Write the first section of your page here.
Section heading
Write the second section of your page here.
Ad blocker interference detected!
Wikia is a free-to-use site that makes money from advertising. We have a modified experience for viewers using ad blockers

Wikia is not accessible if you've made further modifications. Remove the custom ad blocker rule(s) and the page will load as expected.