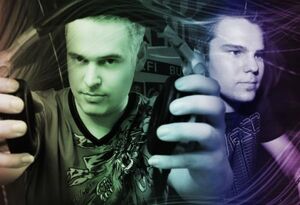 After only a few short years, progressive house duo Maison& Dragen have captured the attention of some of thebiggest names in electronic dance music. T heir creativeofferings have seen them remix artists including Armin VanBuuren and Paul Oakenfold, while their original productionshave been heavily supported by the likes of Gareth Emery,Ferry Corsten and Tiesto. No wonder, then, that MarcusMaison and Will Dragen are hotly tipped to be Finland's nextbiggest musical export.Signed to Armada Music in 2010, their productions arerevered for their creative, uplifting melodies and intensededication to detail. Ever since their first release 'In T heHorizon' they have continued to deliver a consistent flow ofdancefloor hits, including 'Another Dimension', 'Road ToEuphoria' and 'Excalibur'.Fast forward to 2012 and the music keeps on coming withoriginal material including the massive 'Rio de Janeiro' and'Wet Dreams'. Co-productions with Christian Burns, Sharonand tyDi are also slated for release alongside more highprofile remixes.When it comes to being behind the decks, the boys areequally adept with their track selection and have a deeprootedunderstanding of what it takes to rock a crowdhaving clocked-up 100s of gigs between them. T hey haveheadlined events across the Northern hemisphere androcked crowds as far afield as Singapore and the USA.As well as working with some of the biggest names in EDM,Maison & Dragen have worked alongside a diverse group ofpop artists including Flo Rida, Kelly Clarkson, Nadia Ali,Christina Aguilera and Kris Allen.
Section heading
Write the first section of your page here.
Section heading
Write the second section of your page here.
Ad blocker interference detected!
Wikia is a free-to-use site that makes money from advertising. We have a modified experience for viewers using ad blockers

Wikia is not accessible if you've made further modifications. Remove the custom ad blocker rule(s) and the page will load as expected.