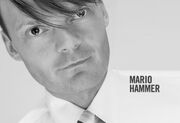 Analogue Synthesizer Freak - Mario Hammer - started his Music career 1997 in Hamburg.Counting over 50 remixes and over 130 releases, his career is filled with outstanding work and successes. With remixes for artists like Ron Flatter's Mantequilla EP- including Mario ́s RWAC remix on Traum Schallplatten, Faithless, Sister Bliss, Holden&Thompson and lots of more, he always took the challenge to create something new.The track "Hammersche Modularverschaltung" by Mario Hammer is the only highly experimentell and modular track on Tour De Traum VII. If you are a fan of sound shaping and abstract music you might like this exceptional track.Lonely Robot"...the track conveys a bit of an Extrawelt feel in the beginning but mutates into an hypnotic and compelling piece of music..
Section heading
Write the first section of your page here.
Section heading
Write the second section of your page here.
Ad blocker interference detected!
Wikia is a free-to-use site that makes money from advertising. We have a modified experience for viewers using ad blockers

Wikia is not accessible if you've made further modifications. Remove the custom ad blocker rule(s) and the page will load as expected.