Martin Accorsi set his mind on making an impact in dance music and has not looked back since. To say he is off to a quick start would be an understatement. His very first studio efforts, "Immersed" and "Feedback", received fevered support from industry heavy-weights Deep Dish and John Digweed. The DC duo went on to sign the tracks for release on their prestigious Yoshitoshi Records. Martin's sophomore project, produced along with Barry Robb, was equally heralded by Deep Dish and subsequently released on Yoshitoshi as well as featured on their Global Underground Moscow CD.Since then Martin's music has received support from globe-trotting DJs ranging from Danny Tenaglia, Paul van Dyk and Roger Sanchez to Bob Sinclar and Laidback Luke. Those very productions have found their way onto premier CD compilations like Erick Morillo's Subliminal Sessions 3 and Deep Dish's Global Underground Toronto with vinyl releases on standout labels throughout the globe such as Stealth, Bedrock, SAW, Nervous, Subliminal and Ultra. After three years of offering other labels his material, Martin decided to create Seductive Records as a vehicle for releasing future projects of his own as well as those of his respected peers. Seductive will serve as Martin's outlet to represent his unique musical taste and dedication to quality – aiming strictly at the underground with established artists as well as emerging new producers.As a DJ, Martin has rocked some of the most recognized dance floors throughout the US, Europe, Central and South America. His visits to Space in Miami, Pacha in Lithuania, Gotica in Peru, Vertigo in Costa Rica, Centrum in Berlin, A-Box in Portugal along with numerous appearances in Guatemala and Mexico have firmly established Martin's ability to transcend borders with his music.Recently, Martin has had numerous DJ appearances around the world and has done remixes for many top artists such as Paul Van Dyk, IIO, Deborah Cox, Tom Stephan aka Superchumbo, and Nick Terranova & Austin Leeds amongst others. Martin's latest single "This Is How We Do" is featured on Roger Sanchez's and Prok & Fitch's new mix compilations and has had amazing support from world renowned DJs such as Laidback Luke, Bob Sinclar, Robbie Rivera, Mark Knight and the list goes on. Recently he has worked on tracks with world-renowned DJs Nick Terranova (Starkillers), Tom Stephan (Superchumbo), and Austin Leeds. These are exciting times for Martin. Stay tuned as he continues to forge his place within dance music's elite company with original tunes, remixes and DJ appearances.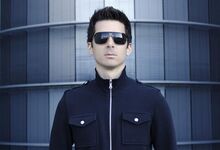 Ad blocker interference detected!
Wikia is a free-to-use site that makes money from advertising. We have a modified experience for viewers using ad blockers

Wikia is not accessible if you've made further modifications. Remove the custom ad blocker rule(s) and the page will load as expected.