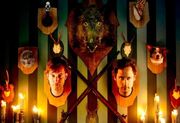 Mason
are a Dutch duo who compose the kind of records that often defy being pigeon-holed and given a label. Their productions have been destroying dance floors to tearing it up the Worldís charts since 2006, laying the foundations for more forward thinking music. Itís not about making records for a particular set of Djs or trendy scene but just good honest music! The Mason sound takes a great understanding of melody and fuses it with technological know-how sheer musicianship and dance floor savvy. It is dance music for the thinking man, but not so clever to be alienating and dull. Masonís critically acclaimed debut album, ëThey Are Among Usí was released in Spring 2011. ëThey Are Among Usí was Mixmagís Album Of The Month and has been described as ìOne of the freshest electronic albums to drop this yearî by numerous blogs. There has been a Worldwide hit, ëExceederí and successful releases under their belt for Data/Ministry Of Sound as well as numerous releases and remixes for labels like Great Stuff, Skint, CR2, Mute and Pickadoll. Mason continue to garner respect from above as well as under ground. The boys have recently lent his sound to remix on numerous artists including Moby, Gabriella Cilmi, Hadouken, Rex The Dog, Evil Nine, Robyn, Zoo Brazil, Disco Of Doom and Jesse Rose. 2009 saw the launch of Masonís label, ëAnimal Languageí and regular parties in Amsterdam under the same name. Now with a few handfuls of quality releases the imprint is making fans with a huge array of DJs , bloggers and music-heads. Each release comes with refreshingly tongue-in-cheek ëRefurbí, a re-interpretation in a totally different musical style, be it speed metal, Mariachi or Balkan!
Ad blocker interference detected!
Wikia is a free-to-use site that makes money from advertising. We have a modified experience for viewers using ad blockers

Wikia is not accessible if you've made further modifications. Remove the custom ad blocker rule(s) and the page will load as expected.