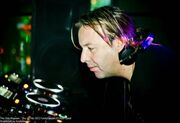 DJ, Producer and Label Manager Colombian who ventures into the Electronic scene in 2004 , and in 2005 he joined the staff of instructors" Dj Station" really great exponents of national electronic music such as DJ Fist , Acid DJ and Robinson Valentti . this academy is one of the most representative in the formation of future promises of the electronic scene .In 2006 part of the working group of the single electronic station as a DJ & Producer Colombia Radio 103.9 FM The X www.laxelectronica.com .Throughout his career as a Dj should be noted that Steven Kass has performed at major festivals throughout Colombia , such as: Overseas Festival, Black & White Festival, Summer Dance Festival Sta Fe de Antioquia , Dimension Tour Pereira, Donald Magnitude Festival Glaude , Electro Sensation Festival Of Fire, Ecstasy Music , Electronics park , Ocean Parade, Music Festival, Electrosonic Festival and Festival Trilogy .Was presented internationally in countries such as Brazil in 2011 Argentina and Mexico in 2013 there having very good support from the public .As Important as www.thedjlist.com pages is among the top 10 DJs in Colombia .His productions have played heavily in different clubs worldwide where ah had the support of major international DJs.Among the most prominent Radio Shows we talk about the ReleaseYourself where Roger Sanchez participated on several occasions and Tiesto Club Radio Show Live to Track Of Hot Shit . Made with colleagues Mario Ochoa & Blacktron .In late 2012 performs with his friend Dj Tusso the Production of a Rmx to the Official Track of " Ultramar Festival 2013 " Who was Launched in Selected and Compiled (EMI ) and music ( Spinin Records)on a cd I Mesclado by Icon One of the DJs and more Representative of Colombia " Dj Moss"Creator and Owner of Overseas Festival .In March 2013 Are Invited to a new Cd participial Compiled by Release (Sony Music) " Milk matinee 2013 " Who is annually distributed throughout Europe.January 2014 marks a great start with the release of a new CD compilation Matinee SpainTitled Matinee winter 2014 with artists like Erick Morillo, Roger Sanchez , Tocadisco, David TortTaitoTikaro , Todd Terry , Filterheadz , Dave Aude, David Penn, Rokelle , OB, Etienne Ozborne , Peter Brown and many more .Currently working on his own label Addict 2 Bass Records one of the most sudamerica positioned level which has weekly releases with very fresh proposals ranging from the exquisite house to sound blunt Tech.
Ad blocker interference detected!
Wikia is a free-to-use site that makes money from advertising. We have a modified experience for viewers using ad blockers

Wikia is not accessible if you've made further modifications. Remove the custom ad blocker rule(s) and the page will load as expected.