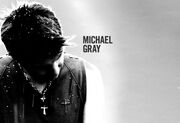 MICHAEL GRAY ("THE WEEKEND", "FULL INTENTION", EYE INDUSTRIES, U.K.) British-based Michael Gray is an accomplished DJ, producer and remixer and is respected by DJs across the board with Pete Tong, Danny Rampling, Roger Sanchez, David Morales and Erick Morillo being amongst his most vocal supporters. As one half of dynamic production and remix duo "Full Intention", Michael burst onto the scene in 1994 with the pair's remix of Duke's "So In Love With You" which rocketed into the Top 20 charts. Since then, Michael has completed a string of remixes both as solo efforts and alongside Jon Pearn as Full Intention. Brandy's "Full Moon", Sugababes' "Hole In The Head", Junior Jack's "E Samba", Ultra Nate's "Free", Jennifer Lopez's "Love Don't Cost A Thing", Shèna's "I'll Be Waiting", Dajae's "What Do You Want?", Dina Vass' "The Love I Have For You", Mood 2 Swing's "Can't Get Away", Powerhouse's "I Got What You Need" and Frankie Knuckles' "Tears" have all received Michael's magic touch, as did George Michael's "Amazing", for which Full Intention received a Grammy nomination. Michael's most successful solo production to date has been "The Weekend". Featuring the vocals of UK vocalist Shena, "The Weekend' was heavily championed by Pete Tong and UK radio, reaching #7 on the UK charts. The single just seemed to get bigger and bigger, possessing a feel-good vibe that proved infectious. "The Weekend" took out #1 spot on the Australian ARIA club charts and enjoyed similar chart success across mainland Europe, being licensed to several labels including Ultra, Eye Industries, Germany's Kontor imprint and Italy's Motivo Records. Remixed by artists including Nic Fanciulli, Ian Carey and Starchaser, "The Weekend" sat in the record boxes of the world's top DJs including Erick Morillo, Junior Jack, Groove Armada, Lee-Cabrera, Dave Pearce, Tall Paul, Steve Smart and DJ EZ and was used in a number of television commercials including Radio 1's Creamfields ad and the BBC's Football Focus commercials. Appearances on dozens of compilation releases were the icing on the cake for one of 2004's biggest tunes. Never one to rest on his success, Michael has of late been busy completing some more remixes, while working on several projects under the Full Intention namesake, such as a triple CD album on Defected. And numerous more Michael Gray solo singles followed as well as his first solo album. More Information: Michael Gray at Supraton: michaelgray.supraton.eu © 2007 Supraton
Ad blocker interference detected!
Wikia is a free-to-use site that makes money from advertising. We have a modified experience for viewers using ad blockers

Wikia is not accessible if you've made further modifications. Remove the custom ad blocker rule(s) and the page will load as expected.