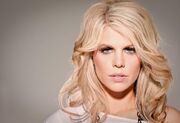 There is a war on the dance floor – a battle between depravity and excess, and authenticity and love. Fighting with an arsenal of beats, and a voice that will haunt your dreams, Miss Palmer's electro-sheik sound glows like a candle in the darkness.Miss Palmer has a voice that conjures the vulnerability of Billie Holiday with the tough, huskiness of Sade, and the distinctiveness of Bjork. Her recent collaboration with Afrojack and Steve Aoki, "No Beef" has become an infections party staple, and with her solo debut on InKind Music available now, Miss Palmer is rising to the surface of the Dance world.A singer, producer, and DJ, Miss Palmer has stepped out with SINES OF LIFE, (co- produced with Bad Boy Bill) a compelling collection of songs that explore her evolution.Raised in small town Oregon, Miss Palmer's early life was wrought with challenges. Heavily involved in the rave scene at a young age, she saw a world that was both liberating and destructive. As fast as that world freed her, the cycle of parties, substances and rebellion pulled her down. Fighting to maintain integrity of character in a world that can eat you alive, she emerged a focused and inspired talent.Her voice, which has graced many club hits, commercials, and TV shows over the years has grown and developed into a pure, additive free force for the new dance revolution.
Ad blocker interference detected!
Wikia is a free-to-use site that makes money from advertising. We have a modified experience for viewers using ad blockers

Wikia is not accessible if you've made further modifications. Remove the custom ad blocker rule(s) and the page will load as expected.