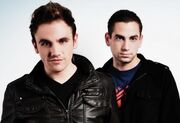 Hailed as the "Breakthrough DJs/Producers of 2011" by Above & Beyond, Bruce Karlsson and Nick Sember have hit the ground running. Better known in the EDM scene as Norin & Rad, these two Southern California boys are really showing the world their unique take on trance. Their collaboration with Thomas Cresine aka Recurve titled "The Gift" pushed them right into the spot light. Being only the second release on Tritonal's Air Up There Recordings. It became one of the most popular tunes in 2011. Played around the globe by Armin Van Buurens massive ASOT 500 show. They immediately followed with remixes with world class edm labels such as Anjunabeats, Enhanced Music and Armada. One of their follow ups, a remix for Estiva's track "Better Days" featuring Josie, was also played at Global Gathering 2011 by Above & Beyond. Coming hot in 2012 and already doing damage to the dance floors. Norin & Rad's "Bloom" takes its debut on Trance Around The World 400 hosted by Above & Beyond themselves.For more information visit www.norinandrad.com
Ad blocker interference detected!
Wikia is a free-to-use site that makes money from advertising. We have a modified experience for viewers using ad blockers

Wikia is not accessible if you've made further modifications. Remove the custom ad blocker rule(s) and the page will load as expected.