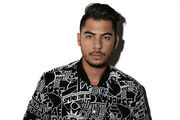 Oliver de la Rosa Padilla, aka "Oliver Rosa" is a name to remember! This young and talented DJ is climbing his way up the ladder! From his birth, Oliver already got involved with different styles of music. This guy cannot play only the piano, but also drums & guitar. Music is his life, and there isn't a day in his life that he misses out on making music. De la Rosa is also an excellent producer; making progressive and electro house is his true passion!Oliver knows how to work the crowd with his skills and takes every party to the next level with his energetic style! Be on the look out for this youngster!
Ad blocker interference detected!
Wikia is a free-to-use site that makes money from advertising. We have a modified experience for viewers using ad blockers

Wikia is not accessible if you've made further modifications. Remove the custom ad blocker rule(s) and the page will load as expected.