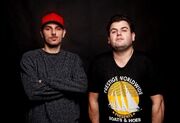 Orkestrated comprise of Melbourne local heavyweights, Adam Bartas and Dean Paps. With over 15 years of dj'ing experience between them, it is little wonder why they command such a cult following across all venues they grace with their presence.Appropriately dubbed the 'Godfathers of Melbourne Sound' these two gentleman command respect whichever venue they enter.These two pioneers have helped create and shape the current movement of music that is being pushed and sought after by many dj's of different experience and tastes. Having hit the nail on the head with many tracks in the past such as 'Slickestrated', 'Night Crawler' [Boo Records], 'Donald Trumpet'. T he boys have been hard at work in the studio recently releasing a collaboration with dance music heavyweight Tommy Sunshine 'Cool Without You' [Vicious], 'Shticky' [OneLove] ft. American Rapper Big NAB and enjoying some Beatport chart success with Original 'Lost in Love' [Poprox Muzik].You can catch them doing what the do best every week at clubs such as Billboard, Fashion Lounge, Levels, Orange Whip, Tramp, Circus and various other venues for special appearances. JUST ORK IT.
Ad blocker interference detected!
Wikia is a free-to-use site that makes money from advertising. We have a modified experience for viewers using ad blockers

Wikia is not accessible if you've made further modifications. Remove the custom ad blocker rule(s) and the page will load as expected.