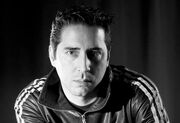 PAUL was born in Buenos Aires, Argentina, in 1977 and moved to Barcelona in 1988, where he started his career as a DJ playing at the main house parties in the city. In 2001 he had his first international opportunity in the USA, where he travelled constantly for three years until he moved to Ibiza, where he made his debut together with Roger Sánchez at the Release Yourself pre-party at Café Mambo Ibiza where he was dj resident in the world tour for 5 years.After that he became resident dj in the most famous club in the world, Space Ibiza, since 2007 till October 2012, he was present in the main events in the mythical club, playing together with international artists such as Steve Lawler, Nic Fanciulli, Sven Vath, Erick Morillo, Roger Sanchez, Pete Tong, among many others. Paul has shared his music and his house/ tech style with Space Ibiza On Tour at the best clubs on the planet like Zouk (Singapore), Green Valley (Brazil), Ellui (Seoul, South Korea), Queen (Paris), Cube (Rome) just to name a few. Now he is focus in his own career and decided to jump to a solo dj career. In the Summer of 2013 he become a resident dj in the legendary and most famous Ibiza Beach ClubsBora Bora Ibiza Playing in the amazing day time beach parties daily and sharing the decks with djs like Dave Seaman, Stefano Noferini, Fat Boy Slim, Ramon Tapia, Filterheadz, etc and playing also around the World with their famous World Tour!As a producer, PAUL DAREY has collaborated with Marc Flaque, Alan Lockwood and Iñaki Santos, working with prestigious labels such as Cr2 Records, Go Deeva, Sphera Recordings, Hotfingers, Muzik X-press, Nervous Records or Spinnin Records, among others.2012 is the year when Paul gives priority to the studio and the results will come out with new releases together with Iñaki Santos, such as "Pepas" –including remixes by artists like Mikalogic (ViVa Music) and David Herrero (Stereo Productions and Ole Records), released by the Italian label Go Deeva and supported from djs like Richie Hawtin, Luciano, etc. "El Trombón" with the label Hotfingers Records. El Campanero in Bedroom Records including remixes of Dj Wady, and Angel Anx.For the beginning of 2013 new Release in Go Deeva will be release including Hollen, Remix.Once again as the last 3 years Paul has been nominated for the Prestigious Vicious Music Magazine as best dj of the year 2012 and best Tech-House artist for the Vicious Music Awards, as is the past he was nominated 12 times in 5 years for Deejay Magazine in different categories.
Section heading
Write the first section of your page here.
Section heading
Write the second section of your page here.
Ad blocker interference detected!
Wikia is a free-to-use site that makes money from advertising. We have a modified experience for viewers using ad blockers

Wikia is not accessible if you've made further modifications. Remove the custom ad blocker rule(s) and the page will load as expected.