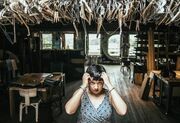 Quilla is a Canadian-Peruvian vocalist, pianist, and composer. She is known for her dreamy vocal style that is soaring yet intimate, disarming and ethereal. Her live act is unique, fusing EDM with mystical indie pop, showcasing Quilla's skills on keyboards and live vocal looping. Quilla is a featured vocalist on Tiesto's 2014 album, A Town Called Paradise, on a track called "Close To Me" in collaboration with Tiesto and Sultan + Ned Shepard. The song is a follow-up to the dancefloor hit "Walls" by Sultan + Ned Shepard featuring Quilla, which appeared on Tiesto's 'Club Life Volume 2'. She also wrote and performed the lyrics for Feenixpawl's "Universe" (Neon Records), Jewelz & Scott Sparks' smash hit "Unless We Forget" (Revealed Recordings), and has written lyrics for many other tracks. Quilla's first full-length studio album "Beautiful Hybrid" (Ritual Fire Records, 2014) is a dance pop adventure, complete with big room anthems and electronic indie rock experiments. Eight remixes by electronic masters such as Ricardo Villalobos, Matthew Herbert, and Wareika were released on limited-edition vinyl by renowned house music label Visionquest Records.
Ad blocker interference detected!
Wikia is a free-to-use site that makes money from advertising. We have a modified experience for viewers using ad blockers

Wikia is not accessible if you've made further modifications. Remove the custom ad blocker rule(s) and the page will load as expected.