15 T hings You Didn't Know About RAC!Your favorite remixes of the last five years are from RAC.He's topped the Hype Machine charts 22 times with officialremixes of tracks by Lana Del Rey, Yeah Yeah Yeahs, BobMarley, Edward Sharpe & T he Magnetic Z eroes and manymore. Now comes his first multi-track release of originalmaterial, the Don't Talk To EP, four songs composed,performed and arranged by RAC with special guestsproviding the vocals for each track.1. André Allen Anjos grew up in Porto, the 2nd biggest city inPortugal, and is bilingual!2. He started playing piano when he was only 6 & was reallybad at sight-reading.3. At 12, all he wanted was a plastic electric guitar thatplayed the chords for him — but his parents bought him areal acoustic instead, so he learned how to play.4. André was a classic rebellious teenager, and once hefound Nirvana he and his friends started playing covers(and that guitar came in handy!).5. Around 14 he became a metalhead and formed his firstguitar-and-drums band.6. One morning at age 15, André sat down for breakfast,opened up a cereal box and inside was a promotional CDfor a simple music production program called eJay. Hestarted using it immediately!7. André failed 12th grade in Portugal. He hated math.8. He played in a wedding band a few times to earn someextra cash.9. Instead of studying for classes, Andre entered remixcontests so he could get vocals to write beats for.10. His prize for a Chemical Brothers "Galvanize" remixcontest was an MP3 player and a box of CDs… which gotstuck in Portuguese customs, so he had to pay up- whichultimately cost more than what the prize was even worth!11. At 20, André moved to the States and enrolled in themusic program at Greenville College in Greenville, IL…population 7,000 (3000 of whom were prison inmates).12. After failing music theory in Greenville (he hated scales),André hatched a plan to create what would become RAC byemailing many labels/bands/artists for remix opportunities ("Iprobably annoyed a lot of people," he admits.) T he Shins'manager finally responded to one of André's many emails,giving him his first big break — the "Sleeping Lessons"remix.13. To date André has remixed nearly 200 songs, including22 #1's on Hype Machine. His resume includes tracks byYeah Yeah Yeahs, Phoenix, Peter Bjorn and John, U2, Kingsof Leon, Foster the People, T heophilus London, and LanaDel Rey.14. His first original single, "Hollywood" featuring Penguin Prison, topped all four Hype Machine charts at once. Itsvideo starred Quentin Tarantino muse Rose McGowan.15. André came full circle, jumping in the studio not just withhuman beings, but with MNDR and Bloc Party's Kele for thelead-off track on his debut EP, Don't Talk To (CherrytreeRecords).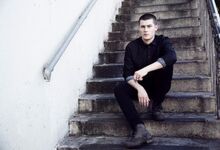 Ad blocker interference detected!
Wikia is a free-to-use site that makes money from advertising. We have a modified experience for viewers using ad blockers

Wikia is not accessible if you've made further modifications. Remove the custom ad blocker rule(s) and the page will load as expected.