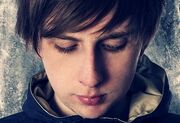 To say Reuben Keeney began his music career "early"would even be a bit of an understatement. Reuben kicked off his music career at the tender age of 12. After playing his first night club in Letterkenny, Ireland, the DJ and Producer quickly immersed himself in the world of electronic dance music. Keeney broke into the mainstream with his 2012release "Give It Some Time". After "Give It SomeTime" impacted, Morgan Page personally remixed it, and the song received worldwide attention. He definitely captures a distinct energy on a bevy of2013 releases. Whether it's "Get Hyped" on LaidbackLuke's MixMash Records, "Good Times together" onVicious Records, or "We Do ItBig" [featuring Rafii] on Steve Aoki's Dim MakRecords, he's consistently unleashing club-readybangers. The music genuinely comes to life on stagetoo. Already, he's shared bills with PeteTong, Laidback Luke, Wolfgang Gartner, and more.Even though he picked up the art form at an extremely young age, Keeney's journey is truly starting now.
Ad blocker interference detected!
Wikia is a free-to-use site that makes money from advertising. We have a modified experience for viewers using ad blockers

Wikia is not accessible if you've made further modifications. Remove the custom ad blocker rule(s) and the page will load as expected.