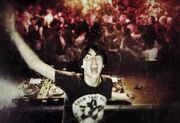 Robby East was only 11 when he started playing guitar. Only a few months later people started noticing how great his feeling for music was. He started to play the piano and eventually started creating his own tunes. Robby kept experimenting with more and more different music instruments but eventually, it became clear that the DJ set was it for him. Being taught by the best teachers, his way up was very fast. After releasing his first official track at the age 13 he made his first steps in the dance music scene. Many releases and chart positions followed and he got supported by big names in the scene. All that's left to say is to keep an eye on Robby East because he is on his way up to the top!
Ad blocker interference detected!
Wikia is a free-to-use site that makes money from advertising. We have a modified experience for viewers using ad blockers

Wikia is not accessible if you've made further modifications. Remove the custom ad blocker rule(s) and the page will load as expected.