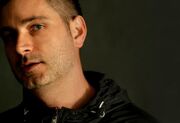 After his touring began in 2006, Sean Tyas has seen almost no end to productions, remixes, compilations, club shows, festivals, and even more so, airports. Having all the major world festivals under his belt, including Electric Daisy Carnival, Tomorrowland, Electric Zoo, Global Gathering, Nature One, Trance Energy, A State of Trance, Love Parade, and the upcoming Mayday in 2013, Sean seems continuously strengthened by his desire to expand and grow. On the studio side, he has already worked with some of his heroes including Armin van Buuren & Giuseppe Ottaviani just to name two. The last year or two have been something of a growth period for Sean, fusing together some huge aspects of Electro into Sean's well known "in your face" approach he is already synonymously known for in the trance circles.
Ad blocker interference detected!
Wikia is a free-to-use site that makes money from advertising. We have a modified experience for viewers using ad blockers

Wikia is not accessible if you've made further modifications. Remove the custom ad blocker rule(s) and the page will load as expected.