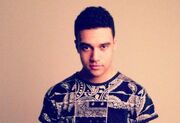 Special Features is part of a new generation of young innovative producers that are able to create amazing music in their room and place it on an international stage for the world to hear. His sound is both original and recognizable having melodic and powerful builds with new-school electro drops. It's representational of a new era of producers who are able to invent a new sound and quickly become recognized by it. In the last year alone he has impacted the EDM scene in a dramatic way by releasing a number of original tracks and remixes that have all hit the number one spot on the Hype Machine charts and received attention by the likes of Tiesto, Avicii, Pete Tong and many more. Described as a blip of hope in Electronic dance music today, Special Features has since become a household name and has become one of the most up and coming and sought after producers in EDM today.
Section heading
Write the first section of your page here.
Section heading
Write the second section of your page here.
Ad blocker interference detected!
Wikia is a free-to-use site that makes money from advertising. We have a modified experience for viewers using ad blockers

Wikia is not accessible if you've made further modifications. Remove the custom ad blocker rule(s) and the page will load as expected.