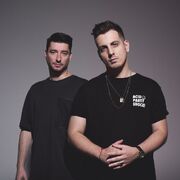 From the vivid city of Budapest, two Hungarian producers that go by the name of David and Sullivan form: Stadiumx
At the end of 2012 Stadiumx was the start of a philosophy by David and Sullivan. They were both under the impression that if they were creating a unique energetic sound for Stadiumx, while fusing production techniques from multiple genres and combining their own sound design, they would end up with a product which name fits well in the Stadiumx vocabulary: 'Big-Stadium' !
'Howl At The Moon' which is released on Protocol by Nicky Romero has turned out to be a favorite for many dj's to play in their sets. Besides having reached the #1 position on the overall Beatport charts, 'Howl At The Moon' also became the most played track at Ultra Miami 2014.
You can expect lots of new game changing productions that will make you experience the sound of: Stadiumx
"Play it f*#k!n' loud!"
Section heading
Write the first section of your page here.
Section heading
Write the second section of your page here.
Ad blocker interference detected!
Wikia is a free-to-use site that makes money from advertising. We have a modified experience for viewers using ad blockers

Wikia is not accessible if you've made further modifications. Remove the custom ad blocker rule(s) and the page will load as expected.