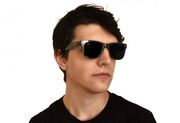 Relatively new to the EDM front, the mutli-national trio Suspect 44 have recently been taking massive strides to stardom since their debut on the legendary Anjunadeep label with their monster hits "Japanese Schoolgirls" and "Neon Feel". Comprised of three members from the United States and The Netherlands; Luke Shipstad, Hoz Sabirr and Zhiar Mahmoud have been writing music together for years.Their most recent hit release on the Armada powerhouse, "Amazing", not only reached the #1 spot on the Beatport Top 100 (Trance) and then remained in the top 10 for over a month, but showed the world the promise this trio really holds. Now additionally partnered with Enhanced Music, Suspect 44 are on a slew of top charting singles with no sign of stopping.Unbound by genre lines, Suspect 44 is now aiming to bring together the bass culture sounds of Electro House to the melodic side of Progressive House, the result to say the least is unique and fresh.We are Suspect 44. We make things that make your ears feel good.
Section heading
Write the first section of your page here.
Section heading
Write the second section of your page here.
Ad blocker interference detected!
Wikia is a free-to-use site that makes money from advertising. We have a modified experience for viewers using ad blockers

Wikia is not accessible if you've made further modifications. Remove the custom ad blocker rule(s) and the page will load as expected.