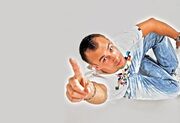 Everyone is bound to fledge some day and in 2009 Sven Kirchhof, finally left his nest and found his niche creating a truly innovative and unique rocking sound. As early as 16 years of age, the young boy from Frankfurt/Germany was recognized and his first studio production was picked by a former well known German Label, which set the course and materialised the dream of a musical future. Meanwhile, aged 30, Sven can look Back on a strong musical career, and besides his releases, Sven has widely travelled and been requested for DJ gigs delivering his sounds at the biggest Clubs and events in Europe. In 2008, Sven had a strong desire for a fresh new taste and element in his musical abilities. After a year locked up in a newly renovated and rebuilt Studio, Sven was busy experimenting with sounds. These sounds he proclaims are different and unique and truly represent what he feels inside. In the Summer of 2009, the likes of Laidback Luke recognized the soaring talent and outstanding character of Svens productions. It all began within a few months as Luke booked Sven for his famous "Super You & Me Partys". This led to Luke signing Sven's new Single, "Limit Is The Sky" for his Label "Mixmash Records", which turned the Super You & Me Crowd upside down! Sven was also announced to the world in Luke's interview as "An artist the world should look out for as the future favorite"! But Sven not only caught Laidback Luke's attention! His electric sounds were simultaneously released by famous Labels like Dim Mak, Anjunabeats, Atlantic Records, Big & Dirty, Neon Records and Sneakerz Muzik which have most recently released Sven's Singles and Remixes in the past few months. Ever since his "Arty - Around The World" Remix collabo with the Guys of "Two Pearls Rock", which was hyped by Tiesto, Thomas Gold or TV Rock, Sven is on everyones Radar. Besides the ongoing roll out of electric sounds on the production line, Sven is playing at the legendary Cocoon Club in his hometown of Frankfurt as DJ! Sven is undoubtedly a force to be reckoned with. He is back with a fresh and hard hitting dynamic sound to rock the Clubs and Planets again. Despite the new elements introduced in his music, Sven assures us that his individual past sounds are not Lost and forgotten, they are amalgamated with the future sounds- this he says, is his secret ingredient. Sven has carefully created a mixture of hard, soft, rocking and melodic tunes that have the ability to hit every individual every possible level. This is what has made his tunes on the most wanted lists for over 14 years. For sure, Sven will turn up the heat again, cause theres lot of ass-kicking to expect in the near future. Watch out!
Ad blocker interference detected!
Wikia is a free-to-use site that makes money from advertising. We have a modified experience for viewers using ad blockers

Wikia is not accessible if you've made further modifications. Remove the custom ad blocker rule(s) and the page will load as expected.