T he Magician is the alias of talented DJ/Producer, Stephen Fasano.One night not so long ago, he appeared from a place between space and time.Apparently he stepped into this world, materializing in a cloud of crystal stars and soft pink smoke. Some claim he's a former airline pilot who crashed an afterparty – some say it's all just an illusion, a well performed hoax.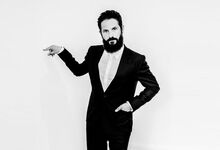 Ad blocker interference detected!
Wikia is a free-to-use site that makes money from advertising. We have a modified experience for viewers using ad blockers

Wikia is not accessible if you've made further modifications. Remove the custom ad blocker rule(s) and the page will load as expected.