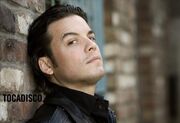 After 15 years of being a professional DJ, over 60 international remixes, one album and more than ten successful singles in his pocket the multi-instrumentalist and award winning super producer Tocadisco looks into a bright future. There is no other producer and DJ in the international dance scene today that has proven his talent in so many different musical ways. Be it remixing artists like Moby, Tiga and New Order or writing successful singles with David Guetta or Fisherspooner. No other artists' music was played by the biggest names of underground club music and has also been used for commercial tv advertising!!! In 2008 Tocadisco released his first artist album "SOLO", wrote a song on David Guetta's album "Pop Life" and achieved an MTV Award for "Best International Dance 2008". In 2009 there will be a new Tocadisco album released! Tocadisco has already traveled the globe a lot of times and in 2009 his world tour will take him to Australia, Brazil, USA, Canada, Mexico and of course everywhere in Europe. tocadisco.com
Ad blocker interference detected!
Wikia is a free-to-use site that makes money from advertising. We have a modified experience for viewers using ad blockers

Wikia is not accessible if you've made further modifications. Remove the custom ad blocker rule(s) and the page will load as expected.